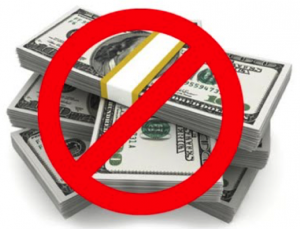 It may come as a surprise to many, but there is no federal law that mandates that a private business, person or organization must accept cash for goods or services. Private transactions are free to accept payment as they wish, unless there is a state law stating otherwise. In fact, the claim not to accept cash payments is supported by the US Treasury; if the payment is not a for a debt, then currency does not need to be accepted. This means that if you buy a candy bar at the 7-Eleven, you are not incurring a debt as you have not eaten the candy yet. Therefore, the store can prohibit you from using cash as payment.  However, say you opened the package, took a bite of the candy bar prior to paying for it at the counter-then you have created a debt. You used the candy bar prior to payment, so you are now indebted to the store for the price of that candy bar. Hence, the store must accept cash.
It is becoming more and more common for business to have a policy to accept only credit/debit cards for in person sales transactions. Why? Those stores that refuse cash transactions do so because they believe that it reduces the chance of being robbed, eliminates theft by employees to steal cash from the drawers, and eliminate the time for workers or owners to travel to and from the bank to make deposits. While there has been ample discussion about small retail businesses refusing to accept credit cards due to the fees associated in accepting credit cards, there has not been a lot of discussion on what would happen if businesses stopped accepting cash payments.
However, refusing cash transactions can disenfranchise over 10 million households in the US that do not have bank accounts or access to credit cards or debit cards.
A Massachusetts law enacted 1978 states that all businesses must accept cash or face fines. New Jersey is developing a law that would mandate cash transactions or face fines up to $5000 for a second offense.  The New Jersey bill would only apply for in person sales. It excludes MOTO and internet transactions.
This means that more states may issue laws mandating cash to be accepted for all face to face transactions. Until the entire population of the U.S. is able to acquire debit or credit cards to use for payments, cash is still going to be with us. So, while we may be headed to become a cashless society, it is going to take a long time before cash is dead.